Strengths of Pacific Industrial
Concept of Technological Development
As we enter an era of great change in mobility, and against the backdrop of the growing importance of sustainability issues, we are accelerating the development of LCA and carbon-neutral technologies in the mobility field, which has been our main focus, and we are proposing products that consider the changing nature of mobility and taking on the challenge of new fields by utilizing our core technologies, in cooperation with external parties.
READ MORE
Mainly in the stamping and molding product business, we focus on ultra-high tensile strength steel (UHTSS) and aluminum products that contribute to weight reduction, and develop molding products to improve comfort performance, which is becoming increasingly important with the shift to electric power. In our valve business, while creating synergy with Schrader, we are accelerating development to expand our TPMS business domain, as well as product development for electrified vehicles by leveraging our core technologies, such as sensing and fluid control technologies. In addition to investing in the development of these mainstay products, we are also actively taking on the challenge of developing new businesses that anticipate social and customer issues by utilizing sensing technology and other technologies with a view to expanding our business domain over the long term. Whereas in our stamping business, where we continue to improve upon our advanced structural analysis technology, participate in mobility development from further upstream stages, and accumulate knowhow for manufacturing, we are also focusing on original product development in the molding, valve, TPMS, as well as new businesses, and are actively pursuing patents, aiming to create societal and customer value.
Various Processing Technologies Leading the Way in reducing mobility weight
Reducing the weight of the vehicle body, which affects fuel efficiency, is required to reduce CO2 emissions. The Group is proposing body structures by deepening its structural analysis technology in combination with the expansion of its press forming areas. We will propose weight reductions while maintaining collision safety, thereby balancing reduced environmental impacts with safety and peace of mind. In addition, we specialize in the cold stamping method, which can reduce CO2 emissions by about 90% compared to the hot stamping method. Apart from that, we are also actively processing products using new materials, such as aluminum and GFRP materials, whose demand is growing.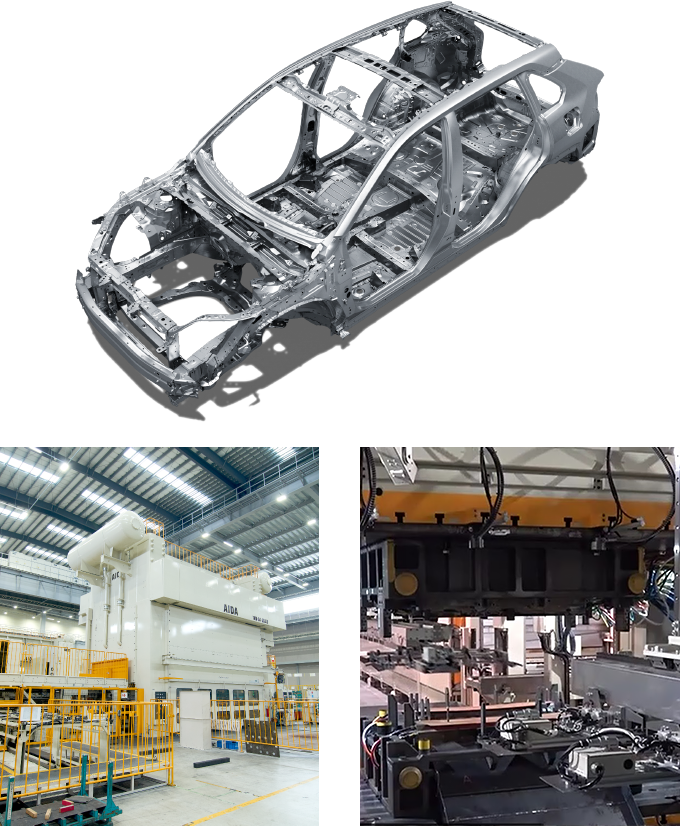 Products for Electrified Vehicles such as FCEV and BEV
With the shift to electrified vehicles such as HEVs, PHEVs, BEVs, and FCEVs*, which is proceeding against the backdrop of climate change and carbon neutrality, we are accelerating the development and sales of products for such vehicles.
Along with reducing the weight of our stamping products, for molding, we are developing new materials, construction methods, and product designs by enhancing our urethane foam technology to meet the needs for sound and vibration insulation against motor noise arose in response to the shift to electric power.
For valves, the new MIRAI uses a relief valve for hydrogen fuel, an important component that protects safety.
Valve products with the various world's top market share
Valve cores for tires, the products on which the company was founded, are small parts that only weigh one gram. Valve cores are precision parts that are also known as the heart of tire valves. They do important work ensuring the smooth flow of air being pumped in when the valve is open, and usually prevent air leaking out. In the production and sale of this important product, which is essential for automobiles, the Group holds a 100% share in Japan and the top share of 50% globally (company estimates). To this point, we have produced a cumulative total of about 20 billion valve cores, whose length together is the distance from the earth to the moon.
Apart from tires, the Group's valves are used in various fields, including air conditioners, ships, and industrial machinery, and many of these products have a high market share.
For tires tire valve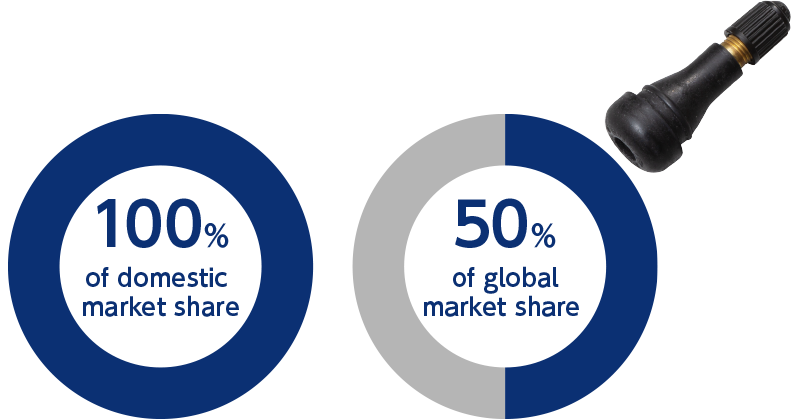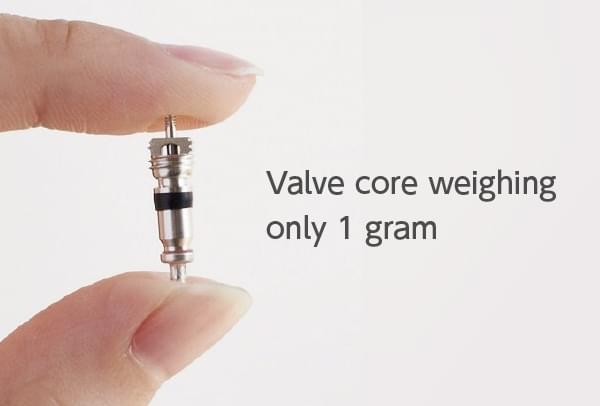 For car air-conditioner relief valve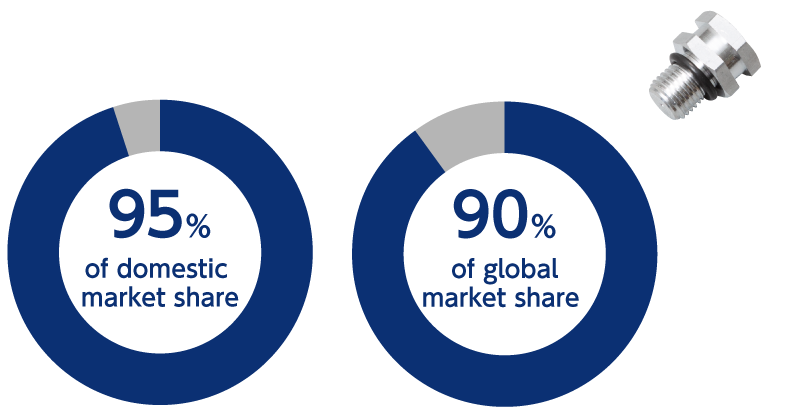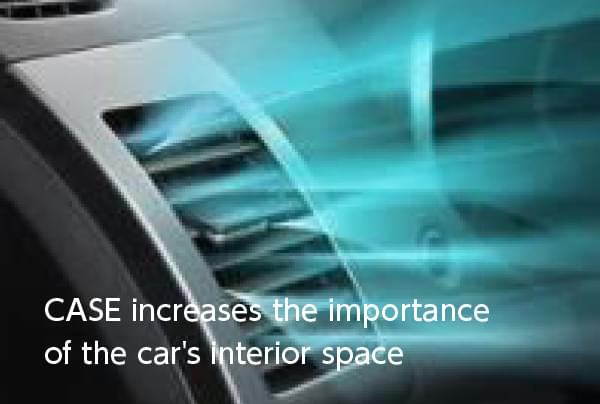 TPMS contributes safer and more fuel-efficient vehicles
We are the only transmitter manufacturer in Japan that develops and produces Tire Pressure Monitoring System (TPMS), which monitors the air pressure and temperature inside tires and alerts the driver to abnormalities while driving. TPMS is an outgrowth of the tire valve, our founding product. By maintaining proper tire pressure, TPMS can prevent accidents, improve safety, and contribute to fuel efficiency. In Europe, America, and many other countries around the world, the use of these products is mandatory by law, and they contribute to society as our group's primary products.
As a manufacturing company, our group conducts thorough quality control, and our customers recognize the Pacific brand and quality of TPMS, which we have been producing and selling as our main product for more than 20 years.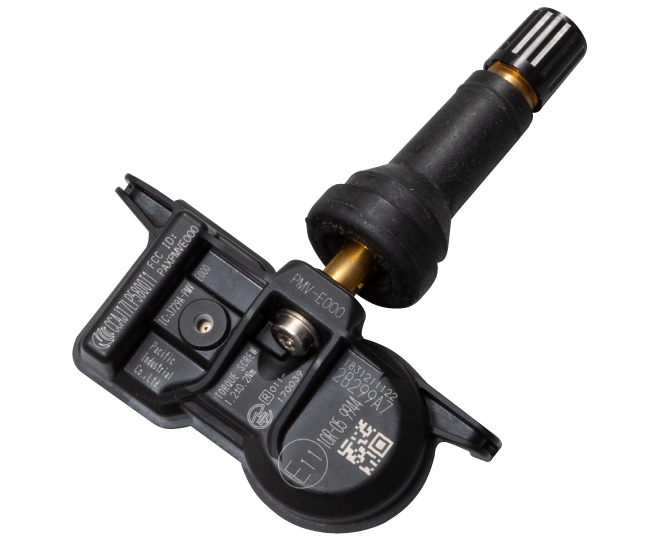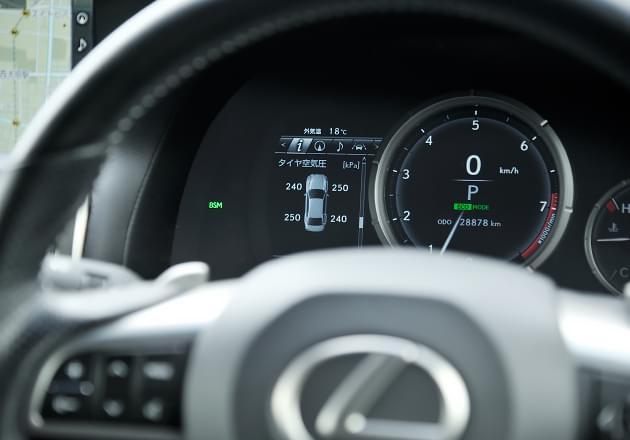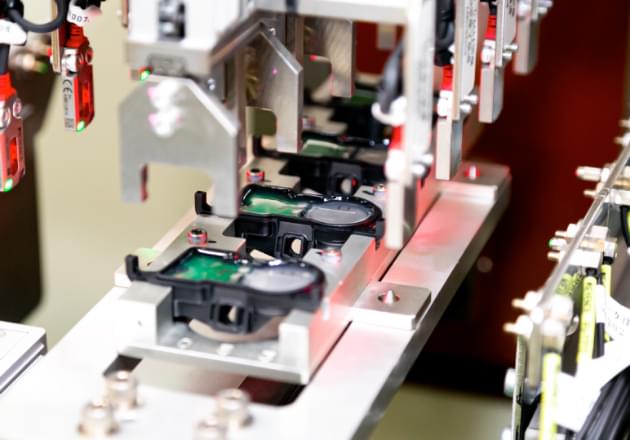 Our quadrilateral system in Japan, Asia, North America and Europe was established
The Group has production and sales bases in four regions of the world, and creates value with group management while promoting the sharing of information and know-how, and the interaction of human resources. In 2018, we acquired the valve business of Schrader, our long-time rival in tire valves, and added a production base in Europe. Together with Schrader's technology development, we are addressing local issues and creating value globally while the four regions collaborate.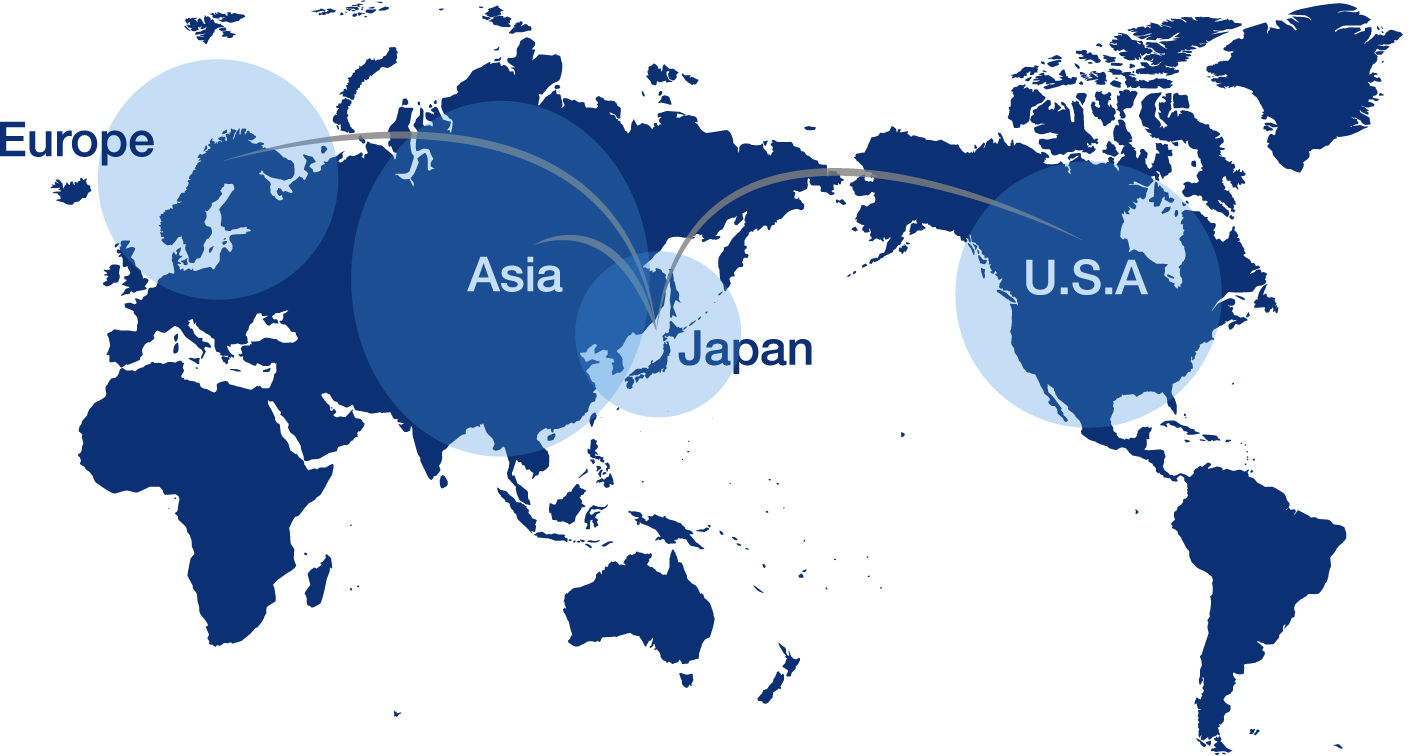 Integrated production system of design, development, and production process
The Group uses its strength of being able to respond consistently from planning and development to production, to promote unique manufacturing that realizes the best prices while establishing a quality assurance system based on global standards. Further, all divisions work together for speedy product development.
To develop more efficient, higher performance products, we use CAE (computer simulation) technology that can simulate basic performance and shape at the product design stage, and we also implement various analytical evaluations such as performance evaluations and strength durability tests on everything from raw materials to products to improve quality.
The company's manufacturing is underpinned by human resource development with an unwavering commitment to improvement and advanced production technologies cultivated over many years. We are promoting the internal production of equipment and dies to accumulate technologies and pass them on to the next generation. In addition, we are also working on production technology innovation, including automation using AI and robots at our plants.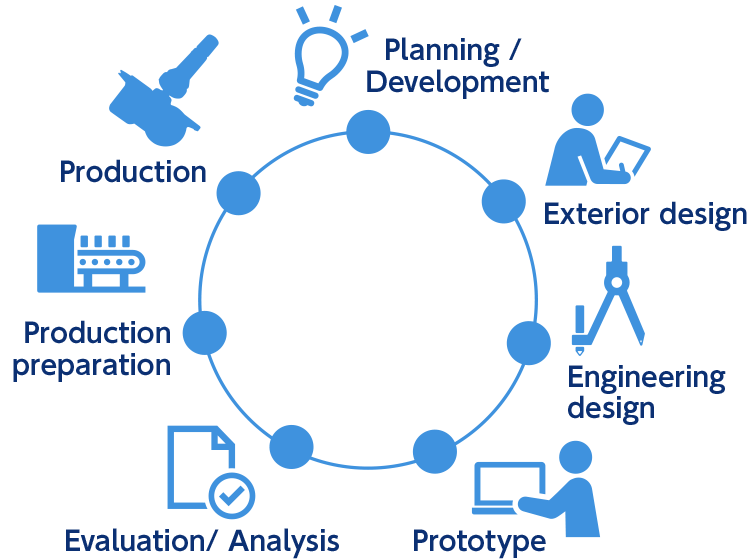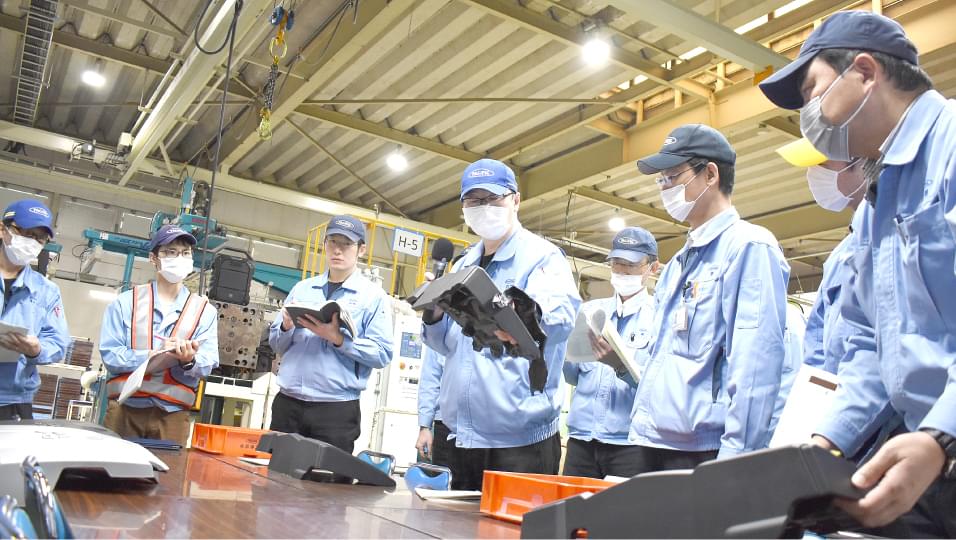 Expanding new business potential with leveraging core technology
We are accelerating new product development to solve problems in new areas, in particular, logistics, food, pharmaceutical, and livestock industries by applying the wireless and sensing functions that are the core technologies of TPMS.
Launched in 2021, our multi-sensing logger "e-WAVES" is a product equipped with six sensors, including ones for pressure and temperature, that can monitor in real time.
It contributes to better quality control of COVID-19 vaccines, reduction of waste loss, CO2 emission reductions with DX technology, and improving logistical efficiency by visualizing transportation and management status of food and medical supplies. We aim to help solve social issues together with customers.